Android Builder Pea Beta 2.0
Hello, AndroDevs! It has been a while, but we are back with a new announcement! And, just recently, the AB team made an announcement about project backups as we transition to premium servers for improved performance and reduced project loading time. Now you can freely use our new and premium servers with a lot of enjoyment. We've planned to allow users to download their backups from old servers, which are available on this website.
Feature
SDK 31 Support Added
Mobile Responsive Fixed
Tablet Responsive Added
Bug Fixed
Dynamic Card Library Not Found Fixed
Textbox Android 8 Or Lower Crash Issues Fixed
Mobile & Tablet Sizing Issues Fixed
New Function's & Property's
User-interface Changes & Added
Max Banner Ad Refresh Rate & Enable Property Added
Max Banner Adaptive Banner Property Added
Max Mrec Ad Refresh Rate & Enable Property Added
New Component's Added
Max Custom Native Added
Max Startapp Mediation Added (Dependencies)
Applovin Resources Added (Dependencies)
Library's New Version
Applovin → 11.4.6
Admob → 21.1.0
Adcolony → 4.8.0
Chartboost → 9.0.0
Unity → 4.4.0
Inmobi → 10.0.9
Ironsource → 7.2.4.1
Startapp → 4.10.2
Vungle → 6.12.0
Ayet studio → 3.6.0
Tapjoy → 12.10.0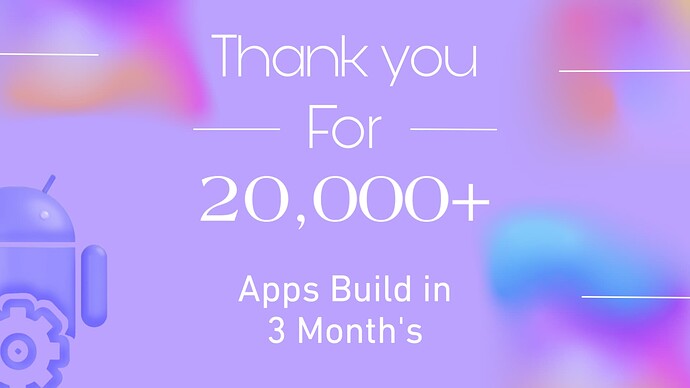 Clear Your Browser Cache Before Use
Notice: Mediation User Remove Old Mediation Adapter And Install New Adapter From Dependencies Section.
Download New Companion Link
NOTE:- IF YOU FIND ANY BUGS AND IMPROVEMENTS THEN POST IN IMPROVEMENTS & FEEDBACK CATEGORY
Team android builder