Freedom is something that money can't buy, it's the result of the struggles of many Bravehearts. Let us honor them today and always. Happy Independence Day 2023!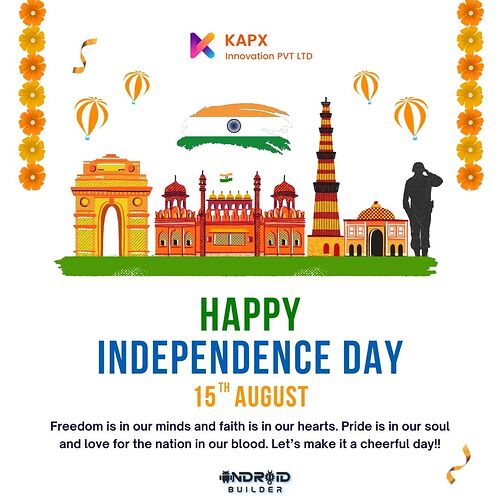 This day we shall remember every passing year as this day shall remind us of our first building block of success, and we at this moment announce the inauguration of our company, Kapx Innovation PVT. LTD.
Hello AndroDevs,

We are here with an important announcement.

How would you feel if I told you about Android Builder updates?

Seriously, it's doable, and I have a brand new company coming out in seven to eight weeks that will show you how we developed Android Builder in the past few years.

I wanted to give you a heads-up because there will be great services and excellent low-cost services.

I'd hate for you to miss out on them!

In the meantime, you can visit this website, which shows you how and why Kapx Innovation will benefit you like you wouldn't believe.

I promise this will blow your socks off.

The launch date will be announced soon, and I'll be announcing some extra bonuses and updates on the day and possibly leading up to it.
About BuildServer Update
We have upgraded the Android Builder Server to 3x as compared to the old one, and it will give you more speed than the old one.
Important Clear Your Browser Cache Before Use
Update Your Companion Again With Same Version Name Link 2.0.7
Team android builder