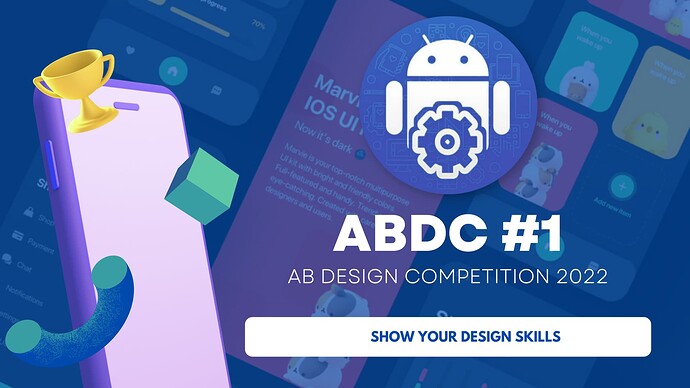 Hey AB Users,
Greetings!
We think it's a nice time to see the skills of our users


As we don't have the current updated version of the AB Companion, we have a chance to see our designing skills in a better way.
So we hereby announce the UI design challenge for AB users.
Challenge
So the main challenge in this competition is that you don't have the companion to live preview your designs so it could be a tough play to make a design out of it so that's the main challenge for you guys

Important Dates
Will be introduced after 1.6 Update
Rules
You should make the design in Android Builder only.
You can't use any paid or free extensions in your design.
You can take inspiration from any design.
Premade AIA is STRICTLY PROHIBITED!
The AIA file of that design will NOT BE MADE OPEN-SOURCE if you still want it to be open-source we will do it for you
Submission should be given before the due date positively, after the deadline no design will be accepted
Judgement will be done by the staff and the community moderators only.
Rules to register and submit
The registration of the competition is necessary to participate.
Non-registered candidates will be terminated from the competition.
The submission will be through google forms only.
You should abide by all the requirements listed in the forms themselves.
No APK files will be accepted as a submission.
VIOLATION OF ANY OF THE ABOVE RULES WILL RESULT IN TERMINATION OF YOUR DESIGN ⚠️
Judgement Criterion
Your design will be judged on the following basis:-
UI Design
Ease of use
Color Scheme
Usefulness of the app
Animations
Tip from us
Make only the design part don't make it a functional app to save your time.
You can use the blocks to help your design seem better.
Register And Submit
Available After 1.6 Update
---
Regards,
Team android builder